Date/Time
Date(s) - 30/06/2021
18:00 - 19:00


For an ics/Outlook file please click here: iCal
Location
Webinar MS Teams Meeting
Categories
Presentation now published on YouTube.
If you have missed this Webinar, you can watch the video of the presentation on YouTube.

Dear Members and Friends of IBF Luxembourg,
We are delighted to invite you to the upcoming IBF Luxembourg free Event:
Real Estate Tokenization – an overview
Presentation by:
Guillaume de Vergnies, Executive Director at Digibrixx
This event will take place on Wednesday, June 30, 2021 as a virtual event from 18:00 to 19:00.
Agenda:
Dividing an asset between multiple holders as a means of raising cash is one of the major sources of corporate finance and commonly known as securitization.
DLT (Distributed Ledger Technology) is the technological pillar to DeFi (Decentralized Finance) giving the ability to tokenize tangible and intangible assets. DLT brings liquidity and investor access. It usually targets a larger audience as the primary market. DLT gives the opportunity to organize trustless exchanges between parties, a secondary market. In this context, a token is the representation of a part of an asset or its mean of investment.
Today, Digibrixx combines these strengths and potentials to leverage cash from Luxembourg retail investors and banks to invest in local real estate development projects with security tokens as a counterpart.
This webinar will be the opportunity to explain the life cycle of a tokenized security (deal structure, backing assets and distribution to investors), in the framework of the Digibrixx initiative.
About the Speaker: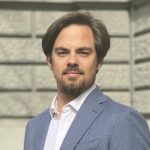 Guillaume de Vergnies is the Executive Director of Property Token SA and his primary missions are to ensure the compliance, the commercialization and the ecosystem around the Digibrixx initiative. His career has been driven by innovation and digitalization, mainly in Belgium and Luxembourg and in diverse sectors, Corporate advisory, SME management, start-ups and FinTech.
He is the holder of a Master Degree in Business, Finance and Entrepreneurship at ICHEC (Brussels) and an International eMBA in European Tax Laws at ESSF (Brussels).
Free Registration:
Preferably, please use your LinkedIn account to register for this event by clicking on the following Link:
Please register by clicking here!
If you do not have a LinkedIn account, please use the following link for registering via e-mail:
I will attend the event on 30.06
If you register via e-mail registration closes on June 28, 2021, CoB.
The event link and access credentials will be sent to you shortly before the event, either via LinkedIn or in a separate message.
IBF Luxembourg is looking forward to welcoming you!
Yours sincerely,
International Bankers Forum Luxembourg ASBL
Important Note: The virtual event might be recorded, and you will receive a message informing you that the recording has been started. By continuing to stay in the meeting, you and other meeting attendees are consenting to be recorded.
This event is using the Microsoft Teams platform. If you are planning to access the event from your company PC and/or through your company network, please ensure that your firewall is not blocking Microsoft Teams. You can also use the Teams App on your mobile device to participate in the event.